For most people, a window is a window.  The individual window parts may not matter to you.  But when it comes to having to call someone to repair a window in your home, know what part is what can help you define the issues a little better.
Window Parts Diagram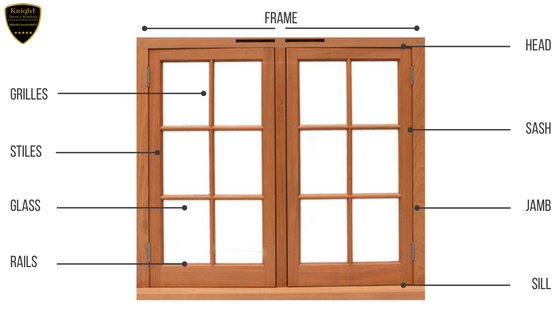 Window Anatomy
Almost all windows are comprised of two parts – the frame and the sash.
Frame – the outermost area of the window (also known as the casing)
Sash – the area inside the frame that holds the glass
The frame itself has three main components: 
Sill – the horizontal strip along the bottom of the frame
Jamb – the vertical sides of the frame
Head – the top horizontal strip on the frame
The sash has several components:
Stiles – the vertical sections of the sash
Rails – the horizontal sections of the sash
Glass – also referred to as the windowpane, this is your main window section
Grilles – a common decorative feature; can either be featured inside the glass or on the glass's exterior
Other window parts terminology you may come across:
Balance – a mechanical device used in single- and double-hung windows as a means of counterbalancing the sash when the window is opened and closed
Lift – a handle for raising the lower sash in a single- or double-hung window
Aluminum Clad – a factory-applied finish used to cover exterior wood window parts to deter the elements
Casing – decorative moulding or framing around a window, used to cover the space between the frame or jamb and the wall
Weatherstrip – a strip of resilient material used to cover the joint between the window sash and the frame in order to reduce air leaks and prevent water from entering your home 
If you have any questions about windows, contact us today! We are more than willing to help you understand your windows.